One of the more enjoyable things to do in Jamaica is to take a road trip. Our
Jamaica road map
will take you around the island starting from Kingston where many of you will arrive at the Norman Manley airport.
If you magnify the google map you can see clearly. Here you are.
View Larger Map
Port Royal, Jamaica
You see Port Royal to the left. Some of that town, known in its heyday as the "wickedest city on earth" has sunken under the sea, victim of the 1692 earthquake. As such of course it is an archaeologist's dream. To the right is the Norman Manley Highway known by all as the Palisadoes strip which must be navigated, if you are going anywhere other than Port Royal.
Kingston Harbour
That my friends is what we call a peninsula or spit which is basically a piece of land that juts into the sea but is connected to the mainland. After quite a few hurricanes we have gotten used to the idea of the sea surging over the road. It's scary but as you can imagine the road is closed during bad weather. So no one in, no one out. On a nice day it offers a pleasant view of the Kingston Harbour, the seventh largest harbour in the world.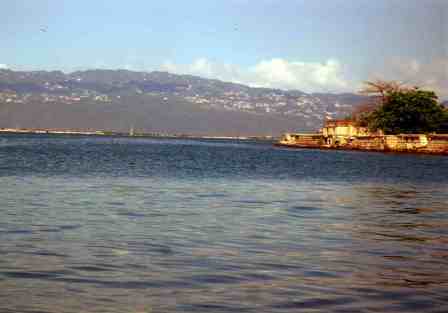 Eastern Jamaica
Take a look at our Jamaica road map again. Having navigated successfully you will be turning right towards the eastern end of the island to see those parishes many visitors don't.
In the south east there is
St. Thomas
- capital Morant Bay which you can see right at the bottom.
In the north east there is
Portland
- capital Port Antonio. The latter, my friend a native Portland girl, calls the "capital of earth". These are rugged areas with layers of greenery sprung forth from lush forests covering the hills and mountains.
View Larger Map
It is on this side of Jamaica that the famous Blue Mountain resides (note the red marker). You would be well advised to check out the bike tours and hikes if you want to explore this heavenly experience. The peak is 7402 ft high.
but if you are driving and hope to cover the island in a day or two you had better stick to the coast road.
Although the north and west coasts have established their reputation for having the best beaches in Jamaica, you would be wrong to believe that this side falls far short.
Outside sleepy little villages you will find beautiful spots along the east coast just inviting you to jump right in.
This picture was taken on a Saturday in St. Thomas, not a soul was on the beach.
There is a lot of variety along the coast as you make your way around the east.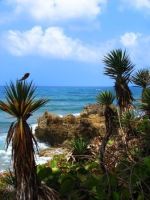 You will encounter rocks, cliffs and myriad flora all of which contribute to provide some splendid views.
The feeling you get is one of untouched, unspoilt beauty like fresh, virgin soil but wait, you will see that the secret of Portland especially, is out.